New Device for Infertility Diagnosis.
Atiomo DyeSeal Uterine Manipulator for Laparoscopy and Dye Test
The Atiomo DyeSeal Uterine Manipulator prevents the long standing problem of distal back flow of dye from the cervix during laparoscopy and dye test for infertility but also permits uterine manipulation in one instrument (not previously possible) saving time and costs.

The potential risks of a false diagnosis of infertility are reduced

The length of the uterine portion of the device can be varied to fit the size of the uterus making surgery more effective.
Publications
2007.

Initial Experience with a Novel (Atiomo-DyeSeal™ ) Uterine Manipulator for the Reduction of Dye Leakage at Laparoscopy and Dye Test.

European Journal of Obstetrics & Gynecology and Reproductive Biology.

2008 ;

138

(

1

):

116-8

.

S.

Paramashwaran, S. Sarkar, A. Sharma, M. Houda, and W. Atiomo Tubal Patency rates in 172 Fallopian tubes from 91 Women undergoing

Laparoscopy And Dye Test for Infertility using a Novel (Atiomo-Dyeseal ™) Uterine

Manipulator. BJOG 2008, 115 Suppl 1; 168

Atiomo, W; China, S; Deb, S; Hopkisson, J; Powell, M; Rowe, I. Can a Novel Uterine Cannula (DyeSeal) Minimise a False Diagnosis of Proximal Tubal Obstruction at Laparoscopy and Dye Test for Infertility? British International Congress of Obstetrics and Gynaecology. 4-7 July 2007. Book of Abstracts. Page 162.

Susnata China, William Atiomo, Shilpa Deb, James Hopkisson; Martin Powell, Ivor Rowe. Evaluation of a Novel (DyeSeal™) Uterine Manipulator. Biennial Joint Meeting of the UK Fertility Societies. University of York. 15-18 April 2007. Programme and Abstract Book.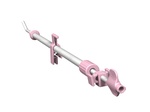 Image of the Uterine Manipulator
Contact For Sales Information
Pennine Healthcare
City Gate
London Road
Derby
DE24 8WY
United Kingdom
Tel. +44 (0) 1332 794880
Fax. +44 (0) 1332 794890
Product Code CW 1200
Image on the right shows HRH the Princess Royal, Princess Anne at a Visit to Pennine Healthcare, manufacturers of the Atiomo Dyeseal Uterine Manipulator